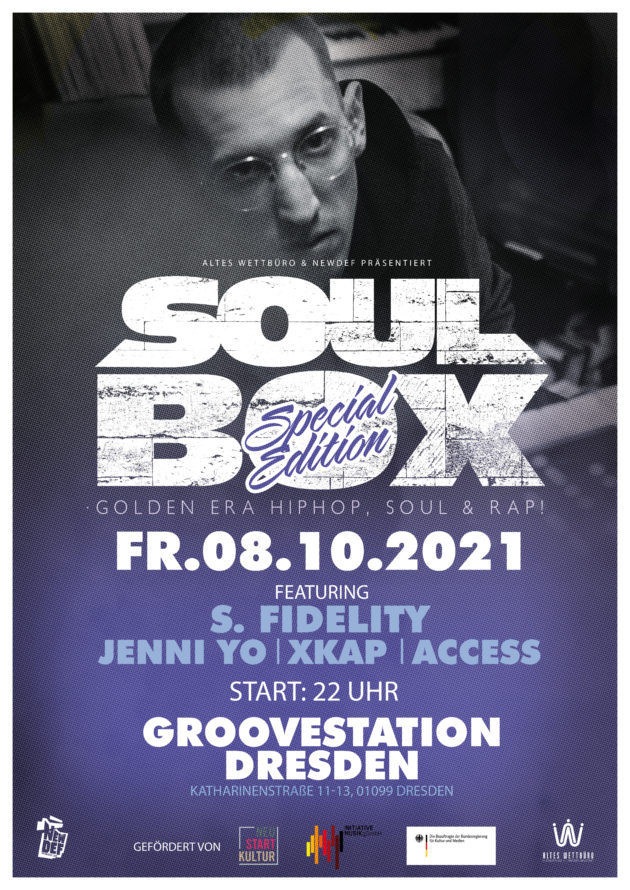 Wir starten in die Indoor-Saison mit einem Knaller, den wir uns schon lange gewünscht haben:
S. Fidelity (Jakarta Records)
Berlin-based hip-hop producer and beat maker S. Fidelity shares his new album "Fidelity Radio Club", a 15 track
strong experience brought to you by
Jakarta Records, the prolific German imprint, which released artists such as
Ta-Ku, Illa J, Ivan Ave and many others.
Ebenso feiert Jenni Yo ihre Premiere bei unserer SoulBox!
LineUp:
S. Fidelity (Jakarta Records)
Jenni Yo (GGVybe)
DJ Access (NewDEF)
DJ Xkap (The Forty Bad Boys)
Bitte beachtet die aktuellen Hygienehinweise der Groovestation Dresden aka 2G.
Start 22 Uhr!
Eintritt FREI!
präsentiert von Altes Wettbüro & NewDEF!